Pure, honest milk. No bull.
At Shatto milk, nothing gets in the way of producing the freshest, most natural dairy products around.
No hormones. No factory farms. No bull. Ok, a few bulls. We hope you'll understand.
The cows can't speak. So, we let the milk do the talking.
Fresh, natural, wholesome milk. It speaks for itself. Still, there's a story to be told about how that milk came to be. And a pretty interesting one at that.
That's why we equip every Shatto bottle with, well, a quip. It's just our way of giving you a little insight into our process.
Like the time our cows got into a patch of four-leaf clovers. That's right, an entire patch. Lucky us, because the next day we had Mint Chocolate Milk.
In the end, you'll find that we're pretty transparent here at our family farm. Maybe that's why we started putting milk in glass bottles.
PSSST! Move your mouse LEFT and RIGHT and watch the bottle!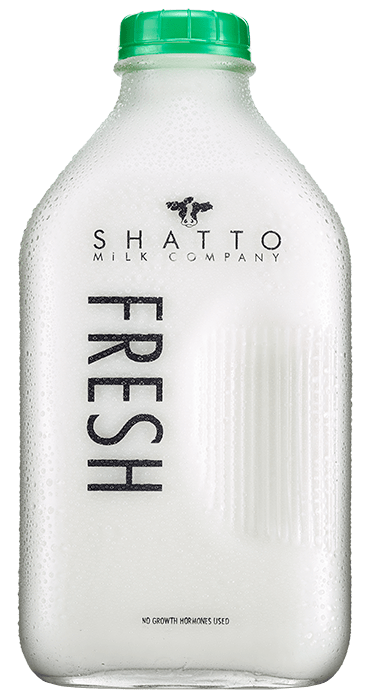 From Our Farm to Your Face.
Products
Why buy the cow when you can get the milk down the street?
Find Shatto Near You
See the milk we put into our milk.
Come Tour the Farm
Go behind the stalls to discover how our milk is produced and bottled. And find out the secret ingredient we put into all our Shatto products. We'll give you a hint. It's milk.
Schedule a tour